TSESME Users´ Guide
Welcome to the TSESME toolkit!

The TSESME toolkit shall help small and micro enterprises of social economy to better understand and analyse training needs.

In order to get relevant background information, an inquiry was organised simultaneously in the four countries of the partnership: Austria, Latvia, Turkey and Portugal, from January to February 2009. The main results are compiled into a report.
The materials and tools that are available within the TSESME toolkit can be reached through two different routes:
'Getting started' guide
For users who want to assess their own or their collaborators' competencies. Recommendable for managers of small and micro enterprises who have not dealt with skills development and human resources development before and want to start dealing with this issue.
'Manual for professionals'
For the more experienced user for whom skills development is not a completely new field of activity. The 'manual for professionals' is intended for managers who are experienced in HR and skills development, trainers, training institutions and people working in the field of vocational training.
Additional Features
Additionally the TSESME toolkit offers an on-line library with materials, articles and checklists; a glossary containing definitions and short explanatory texts on several terms described in the toolkit.
The library is divided into two sections: the 'articles' section where background material on vocational training and the identification of training needs are provided and the 'checklists' section with resources that can assist the user through the execution of training needs assessments.
The glossary explains various terms presented throughout the TSESME toolkit – varying from action competency to working models conducive to learning.
The contact section contains information about the TSESME project consortium members. The interested users can use this information for contacting the TSESME consortium.
Technical notes and settings
Saving of personal data:
All personal data that is fed into the TSESME toolkit during the assessment phase (when using the 'organisational tool' and the 'individual tool') are only stored locally on your personal computer – even when you are working with the online version of the TSESME toolkit.
To save the survey data in a file on your computer or upload the saved data from the computer, when the window below appears you have to click on RUN. Please, select 'Always trust content from this publisher', if you want this window will not appear again.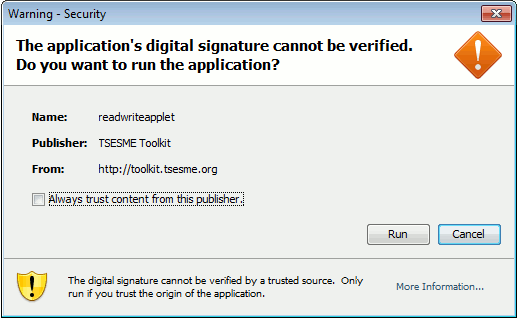 Next steps
The user can find his/her own way through the toolkit and the material provided. The TSESME toolkit provides adoptable tools for the assessment of training needs as well as guidelines for the implementation of vocational training programmes.
However, further assistance – with respect to design and deliver specific and tailored training programmes – should be sought to training institutions or specialised training professionals.